'A 20 per cent vision': Labor's environment group lashes embrace of coal

Labor's environmental flank has broken ranks to lash the party's pro-coal vision, arguing the weekend's result in a NSW byelection is proof the opposition cannot win back government by trying to match the grandstanding of its conservative opponents.
A fresh internal stoush over the ALP's climate and energy policies is poised to erupt on the federal scene after the party struggled to a 20 per cent primary vote in the NSW electorate of Upper Hunter on Saturday, behind the victorious Nationals.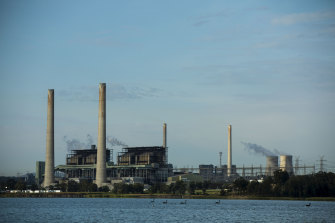 While senior federal Labor figures played down the poor result as reflective of state politics, veteran MP Joel Fitzgibbon said it was a "wake-up call".
The electorate takes in coal mining communities in parts of Mr Fitzgibbon's federal electorate, which had also turned their back on the federal opposition at the 2019 election over Labor's each-way bet on a fossil fuel future.
Felicity Wade, the national convenor of the Labor Environmental Action Network, said the result had produced the "empirical evidence" of how an exclusively "pro-coal and anti-climate action" vision for the future of the party had worked in the electorate.
"It's the 20 per cent vision, and that's in the heart of coal country. You can't win elections on 20 per cent," she said.
"State Labor turned its back on party policy and ran a pro-coal agenda that attacked those who care about climate action and our vote dropped by a third. What's more the vote for those supporting transition increased from around 5 per cent in the last two elections to 15 per cent, with few preferences coming back to Labor.
"We lost primary vote and preferences to our 'left'. While trying to match the populist dog whistling of the conservatives and One Nation, delivered no dividend either."
Ms Wade said its organisation had remained silent as this debate has played out, but said Labor only wins when "we build coalitions".
"We must assure core constituencies that we will intervene to ensure economic change doesn't smash them while also proving ourselves ready to address the frightening threat of climate change. Whitlam, Hawke and Rudd all held strong and public commitments to environment action when they won government," she said.
Federal Opposition Leader Anthony Albanese has sought to re-position the party after a review of its 2019 loss found ambiguous language towards the Adani Carmichael mine, combined with anti-coal rhetoric had devastated its support in mining communities of regional Queensland and the Hunter Valley.
Mr Fitzgibbon said the result showed that the blue-collared workers who deserted Labor two years ago had not returned and remained "sceptical if not suspicious" of the party's commitment to their jobs and their industry.
The former frontbencher has been an outspoken critic of Labor's climate and energy policy direction and warned last year the party was sleepwalking towards another election loss because it had lost its blue-collar base.
Deputy federal Labor leader Richard Marles told Sky News on Sunday the NSW division suffered from a big field of independents contesting the byelection.
"I wouldn't be rushing to jump to conclusions about this having big implications federally, I mean it was a state byelection," he said.